Creating Campaign (guide for Advertisers)
What's Campaign in RedTrack?
Campaign in RedTrack is basically a set of rules and elements that link together a Traffic channel and the Offers that are being promoted. In RedTrack terms Campaign works as the combination of an Offer, Landing page, and a Traffic channel you have set up during previous steps. The main purpose of creating a Campaign in RedTrack is to get the final link you will send the traffic to.
Campaign creation checklist for Advertisers:
1. Add a custom tracking domain.
2. Add your Traffic channel.
3. Add your Brand and Website.
4. Set your Funnel.
5. Add other needed values in the Campaign sections (costs, tracking options, etc.).
6. Save the Campaign settings and copy-paste the tracking link from RT to your ad account.
How to fill in the fields in your Campaign
1. In your RT account navigate to the section Campaigns-> press New: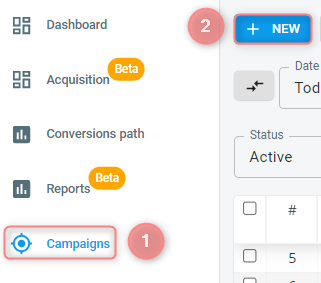 ⬇️ 2. Fill in the General section of the Campaign
⬇️ 3. Adjust your Funnel
⬇️ 4. Add other relevant info to launch and optimize your Campaign
⬇️ 5. Save the Campaign & copy-paste the tracking link from RT to your ad account