Custom tracking domain: how to add it
Intro
Note!

The guide below describes workflow for adding custom tracking domain. If you're not sure about the reasons of adding custom tracking domain, please click here.
To set up your custom tracking domain you need to:
1. Add a CNAME record to your domain pointing to your default (dedicated/free) domain in RedTrack.
2. Add the resulting custom tracking domain to RedTrack.
How to add a CNAME record
CNAME records are added in the setting of your Domain Name System (DNS) / the registrar where you purchased your domain. Let's break down how to add CNAME on the example of three of the most widely-known registrars:
Important! 

Do not remove CNAME record from your DNS settings, as without it your custom tracking domain won't work properly.
How to add a custom tracking domain to RedTrack
Once the CNAME record is added, you can add the custom tracking domain to RedTrack. To do that act as follows:
1. On the main RedTrack menu navigate to Tools-> Domains-> press New: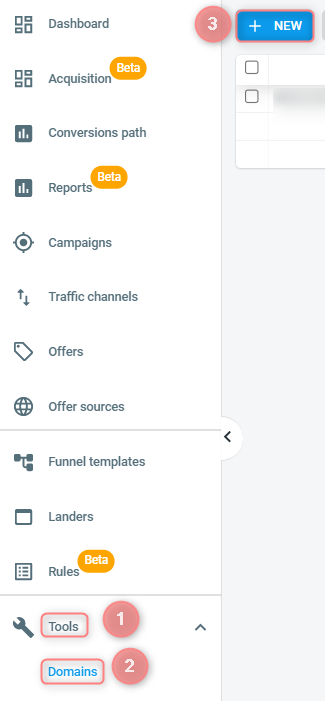 2. Fill in the following fields in the pop-up window: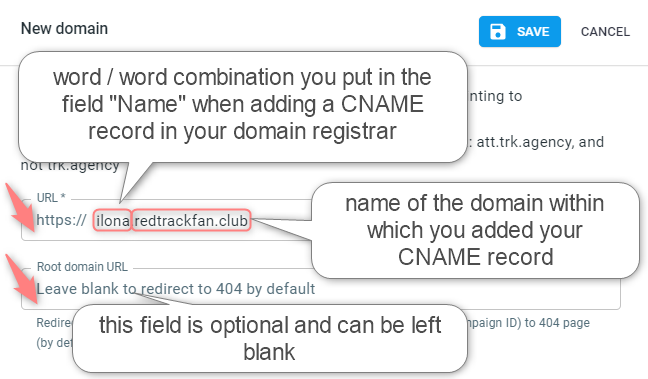 URL field: type in (paste) there the URL of the domain with the name you just added in the newly created CNAME record. In the example ilona.redtrackfan.club on screenshot:

ilona is the name you put in your domain registrar in the field "Name";
redtrackfan.club is the domain you purchased via your webhosting service and via which .

Root domain URL field: in Root domain field you can put the URL visitors will be redirected to in case of a direct entry to the domain URL, or you can leave it blank. In case you still decide to put the root domain there, remember to type in https:// in front of it.
3. Install the SSL
You no longer have to deal with CSRs generation and DNS approvals. RedTrack provides free SSL certificates for all paid clients, where everything now can be done in one click. To activate this feature, turn the "Free SSL certificate" toggle on and save the changes. We are extra cautious about our service, so RedTrack generates certificates using open source Let's encrypt technology, which claims to be free, automated, and open certificate authority (CA) run for the public's benefit (it is a service provided by the Internet Security Research Group (ISRG)).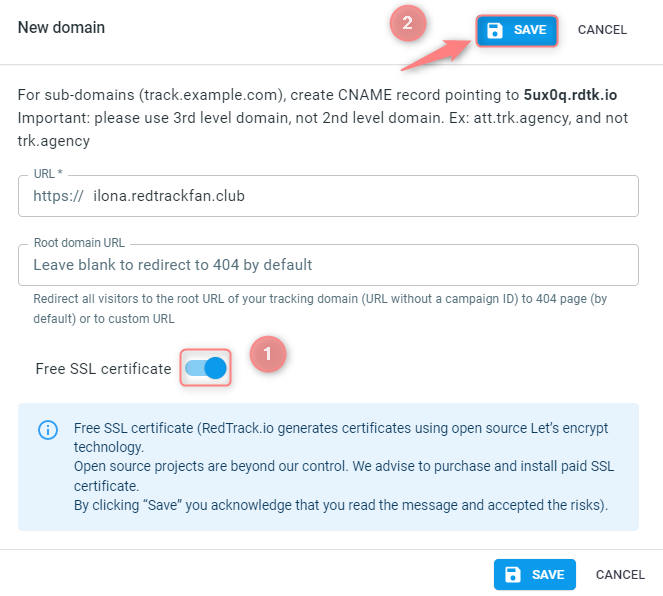 That's it! Your custom tracking domain has been successfully added. Enjoy!
Note!

E-mail support@redtrack.io in case you have the following error:


It means that your RedTrack dedicated domain is obsolete and needs to be changed for the CNAME to point to the correct dedicated domain. Once the Support team changes your dedicated domain you'll need to create your CNAME record all over again using the updated dedicated domain.
Video tip!
Check out our video tutorial on how to add your custom tracking domain.