Masters in Cash and RedTrack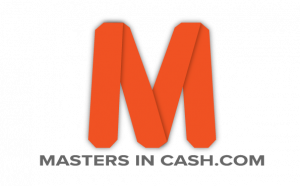 Masters in Cash has the best-converting in-house developed dating and chat offers for the entertainment industry. 30+ geo, weekly new offers with fresh databases, and experienced affiliate managers willing to walk the extra mile
To integrate Masters in Cash with RedTrack act as follows:
1. Add Masters in Cash template to RedTrack.
Go to Offer Sources -> New > find Masters in Cash -> Add the template: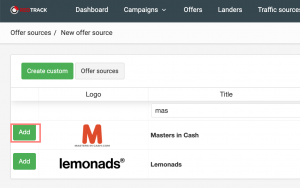 2. The postback URL for Masters in Cash will be as follows:

3. Copy the postback for further implementation on the Masters in Cash side and Save the changes:

4. Set the postback URL in Masters in Cash.
Go to profile settings -> Global postbacks -> Add postback
Set the postback URL from RedTrack and choose the status -> Add postback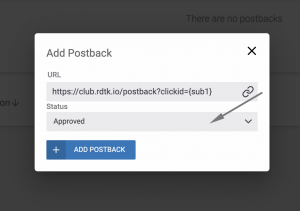 Once it's added, you will see it under your Global postbacks.

If you want to track different types of postbacks (for example, approved, pending, and declined simultaneously), you can use RedTrack conversion types.
Don't forget to adjust the conversion types settings in your RedTrack account. Like that, you can have several events tracked for even better analysis:

5. Obtain the Masters in Cash offer.
Go to all offers -> choose the one you want to promote -> request the access -> wait for the approval -> once approved, copy the offer link and go back to  RedTrack.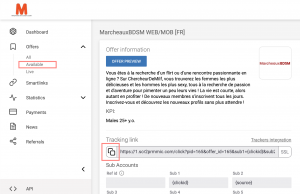 6. Add Masters in Cash offer to RedTrack.
Open Offers -> New -> Fill in the info -> add Masters in Cash offer link in the URL field -> make sure to add the tracking parameters "sub1={clickid}" at the end -> Save the changes: