Magento and RedTrack

Magento is a powerful, open-source eCommerce platform that allows businesses to easily build and manage online stores. With its robust features, scalability, and customizable templates, it enables businesses of all sizes to take their online sales to the next level. Whether you're looking to launch your first online store or want to expand your existing business, this eCommerce solution can help you reach your goals. Some biggest brands, including Coca-Cola, Ford, and Samsung have inspirational eCommerce websites by Magento.
To integrate Magento with RedTrack follow the steps below.
⬇️ 1. Add custom tracking domain
⬇️ 2. Add custom conversion events
On the main menu navigate to the section Tools->Converion tracking->Conversion type-> set the events supported by Magento-> if needed, add types in the event names (you can also apply different duplicate postback modes for each of them on the right)-> press Save:

Note! The full list of Conversion types used for successfull Magento integration includes:

ViewContent

AddToCart

InitiateCheckout

Purchase
Hint! Click here to learn more about conversion tracking in RT.
⬇️ 3. Create a custom Brand
⬇️ 4. Add your Website
4.1 Use this article to help you add your Website to RedTrack.
4.2 Once you've added your Website, you already have the universal tracking script generated for you automatically. To get it, in your Website form go to the tab Scripts-> scroll down to the field Universal tracking script and copy it (as you will need it later to insert in Magento):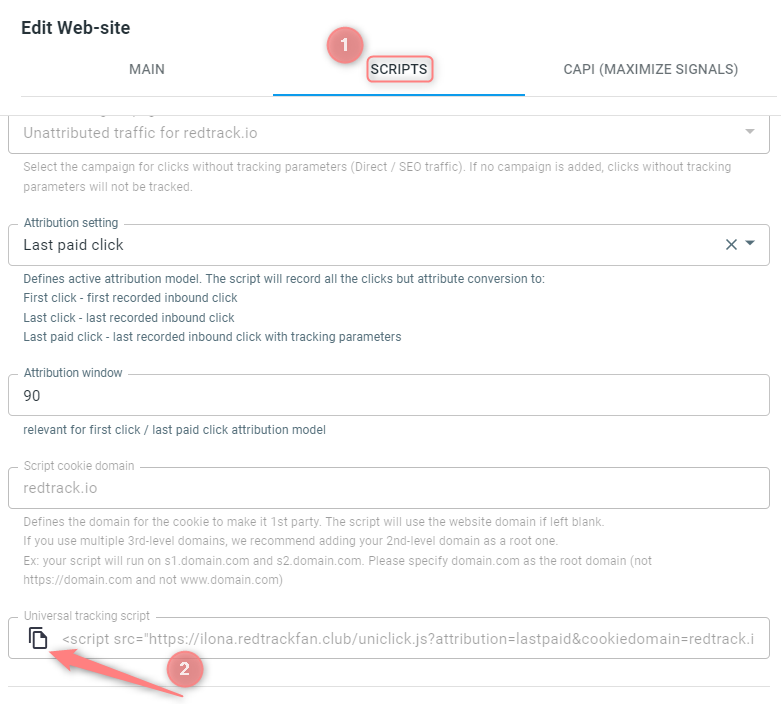 ⬇️ 5. Create tracking Campaigns in RedTrack
Once you've added your Website within step 4, a default Campaign for the unattributed traffic was automatically created for you. Your next step is to consider the following tracking scenarios:
Scenario 1: If you only need unattributed (aka organic) traffic, then this Campaign is enough for you and you don't have to create any more Campaigns manually.
Scenario 2: If in addition to the unattributed traffic you also use several paid Traffic channels (like Facebook or Google or something else) you'll need to add these Traffic channels first and then create a Campaign for each added channel. Thus, you will have 1 Campaign for the unattributed traffic (created automatically within step 4) and another (or more in case of several Traffic channels) for the paid traffic.
Workflow for Scenario 2: 1. Add the needed Traffic channel. 2. Use this guide to help you launch your Campaign for the paid Traffic channel.
Tip: Your online shop will act as an Offer in most cases, so your Campaigns will have only this Offer in the Funnel.
Settings on the Magento side
⬇️ 6. Install the Magento extension to your Website
Magento extension can be installed in 2 ways:
⬇️ 7. Add RedTrack universal tracking script to Magento
In your Magento account go to the tab Universal script-> find the field RedTrack Universal script-> take the universal tracking script you copied within step 4.2 and paste it to this field-> press Save: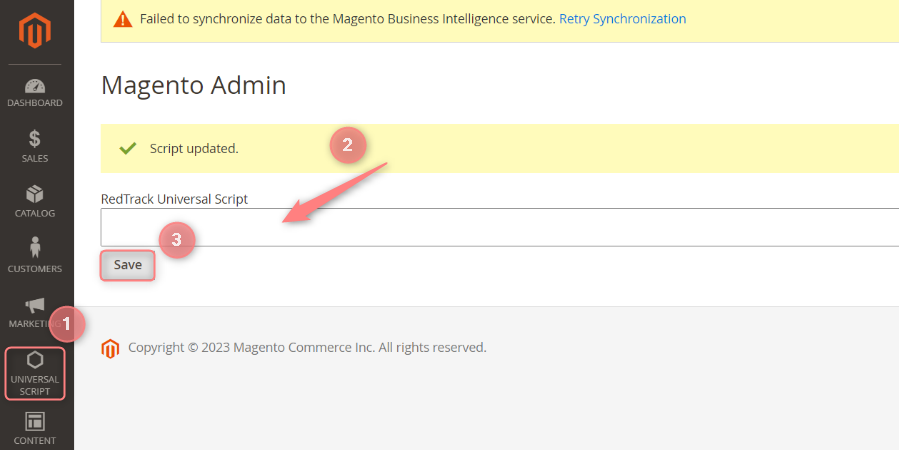 Your universal scripts can also be found in Tools-> Scripts-> copy the needed script from the list of them:

Congratulations! Magento has been successfully integrated with RedTrack.