SelfAdvertiser and RedTrack

SelfAdvertiser.com is a powerful self-service platform for advertisers, a leading traffic source, developed, owned, and operated by Intango. The platform allows online advertisers to create their campaigns in minutes and start acquiring WW traffic from quality sources while maintaining full control of their budget.
SelfAdvertiser.com offers various types of traffic – Pop & Domain Redirect (zero click), keyword targeted and RON. The platform implements the most intelligent ads optimization technology, alongside advanced anti-fraud detection measures, aiming to make the online advertising experience effective, reliable and seamless.
1. Add SelfAdvertiser template to RedTrack.
Go the Traffic Sources -> New -> find … -> Add -> Save the changes: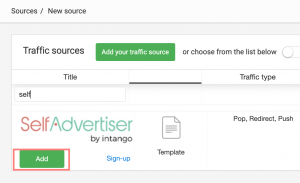 2. Set a campaign in RedTrack with SelfAdvertiser as a traffic source.
Once you have everything ready, you can proceed with the campaign creation. After you save the campaign, a click URL (your tracking link) will be automatically generated:

3. Set the tracking on the SelfAdvertiser side.
Go to Campaigns -> choose the campaign type -> add your RedTrack campaign Click URL under the Destination URL

Choose RedTrack under the Conversion Tracking section:

Copy the "ref" value here:

4. Setting up a postback URL in RedTrack.
Once you created a campaign in RedTrack, S2S postback URL for passing conversion info to SelfAdvertiser will be automatically added to your settings.
Replace the "ref" value with the one you have copied from your SelfAdvertiser account: