Tonic and RedTrack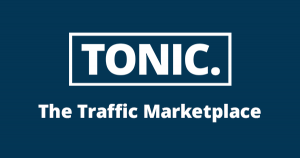 Tonic is the traffic marketplace for advertisers and publishers interested in buying or selling email, domain, pop, or exit traffic. Through their self-service platform with global desktop and mobile coverage, advertisers can find exclusive, high-quality traffic starting at $0.001 per unique visitor, with multiple targeting options like geo, desktop/mobile, device, and carrier targeting, while publishers can find CPC/CPA campaigns with payouts above industry standards.
1. Add Tonic template to RedTrack.
Go to the Traffic Sources -> New -> find Tonic -> Add -> Save the changes: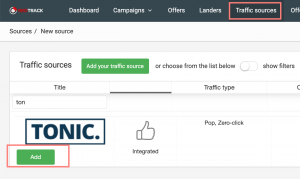 2. Set a campaign in RedTrack with Tonic as a traffic source.
Once you have everything ready, you can proceed with the campaign creation. After you save the campaign, a click URL (your tracking link) will be automatically generated:

Copy the redirect URL and save it for later.
3. Integrate Tonic with RedTrack.
Go to the traffic source settings -> Integration -> fill in the necessary details -> save the changes. The "Active" button means the integration is active.

API integration gives you the following benefits:

Pause: campaign, placement
Create automated rules
4. Set the tracking on the Tonic side.
Open either the POP or the Zero-Click tab (depending on which type of Campaign you want to create) ->  Click the New Campaign button -> Submit the necessary information regarding your traffic and targeting options -> proceed to the Next Step. 
Paste the Campaign URL you have copied within step 2 into the Redirect URL field.

If you want to track conversions for your Campaign, open the Optional Advanced Settings tab.

Choose the Auto payout option if your Affiliate Network allows dynamic payout tracking. Otherwise, insert the cost manually. Once you are done setting up your Campaign, click the Save and Start Campaign button.
5. Setting up a postback URL in RedTrack.
Once you created a campaign in RedTrack, S2S postback URL for passing conversion info to Tonic will be automatically added to your settings, no need to change anything: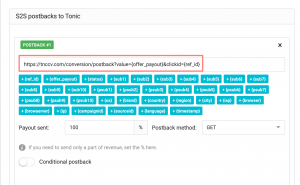 6. Set the automation and enjoy!