Popcash and RedTrack
Popcash is a highly specialized popunder advertising network. It uses a popunder ad scheme when ads are shown in a new window, underneath the current browser. Ads are triggered by visitors clicking anywhere on a website that has loaded the Popcash.Net ad code. Popcash uses a dynamic bidding system. Your traffic rate depends on a variety of different factors, such as traffic quality, end-user location, and advertiser demand. Its user-friendly interface makes it a great tool for both advanced users and those with little experience.
To integrate Popcash with RedTrack act as follows:
1. Add Popcash template to RedTrack.
Go to the Traffic Sources -> New -> find Popcash -> Add -> Save the changes: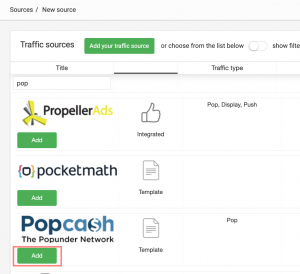 2.  Set a campaign in RedTrack with Popcash as a traffic source.
Once you have everything ready, you can proceed with the campaign creation. After you save the campaign, a click URL (your tracking link) will be automatically generated:

3. Set the tracking on the Popcash side.
Go to Campaigns  ->  Create Campaign -> Add the campaign Click URL from RedTrack into the Landing URL field -> Start Campaign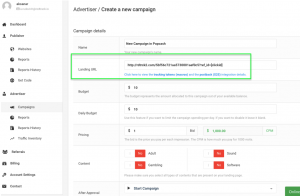 4. Setting up a postback URL in RedTrack.
Once you created a campaign in RedTrack, S2S postback URL for passing conversion info to Popcash will be automatically added to your settings: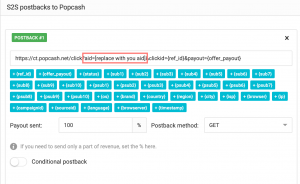 Update the "aid" value with the real value from your Popcash account.