TikTok


TikTok is a platform where you can unleash your brand's creative side. A fully immersive no judgment world where there's an audience for every voice. The world's leading destination for short-form video entertainment.
Follow the steps below to integrate TikTok with RedTrack:
⬇️ 1. Add Tiktok as a Traffic channel in RedTrack
1.1 Go to the Traffic channels tab-> press New from template-> Add: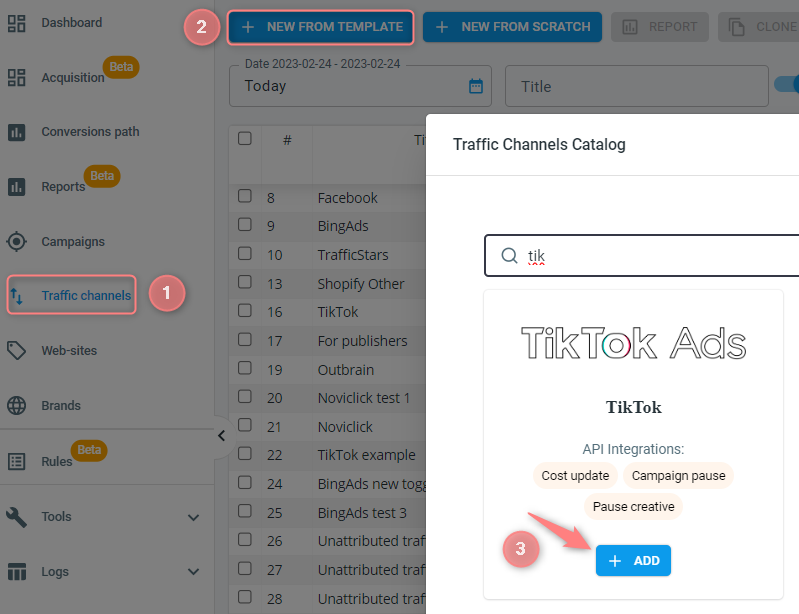 1.2 Once the template pops up Save it:

⬇️ 2. Add your Offer source and Offer to RedTrack
2.1 Use this guide to help you add an Offer source and Offer to RT.
2.2 For better ad generation remember to assign the following roles to your Offer source-> Additional parameters section:
Email
Phone
Content Category
Contents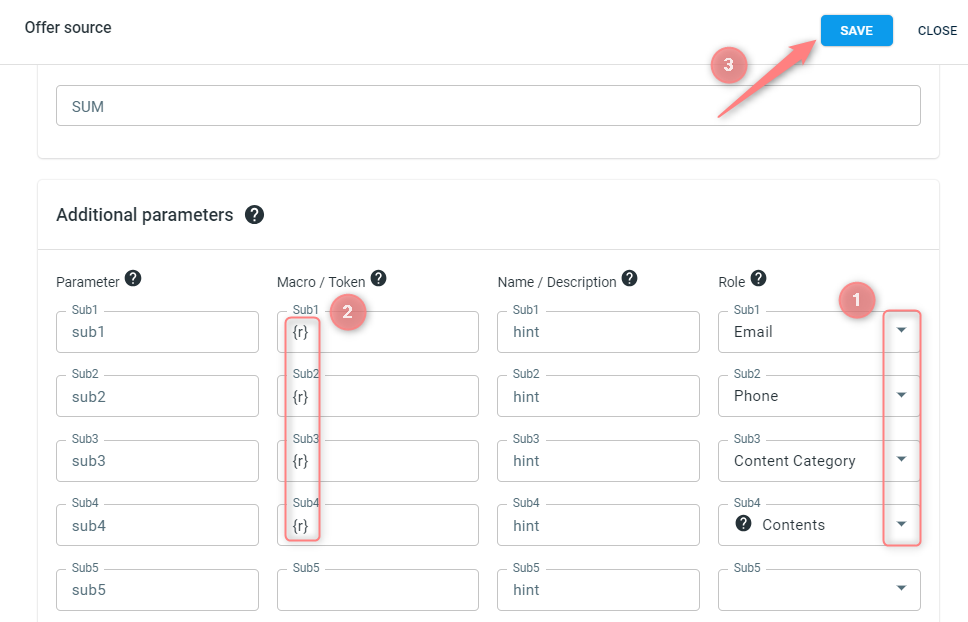 ⬇️ 3. Integrate RedTrack with your TikTok account
3.1 Go to the saved TikTok template, scroll down to the section TikTok API integration, and press the Connect TikTok button to integrate your TikTok account with RedTrack:
Important!

It's important to save the TikTok template first to show the system it is ready for the API integration (see step 1.3 above). Otherwise, the Connect TikTok button won't be available for pressing.

3.2 click on the Confirm button to accept the integration permissions: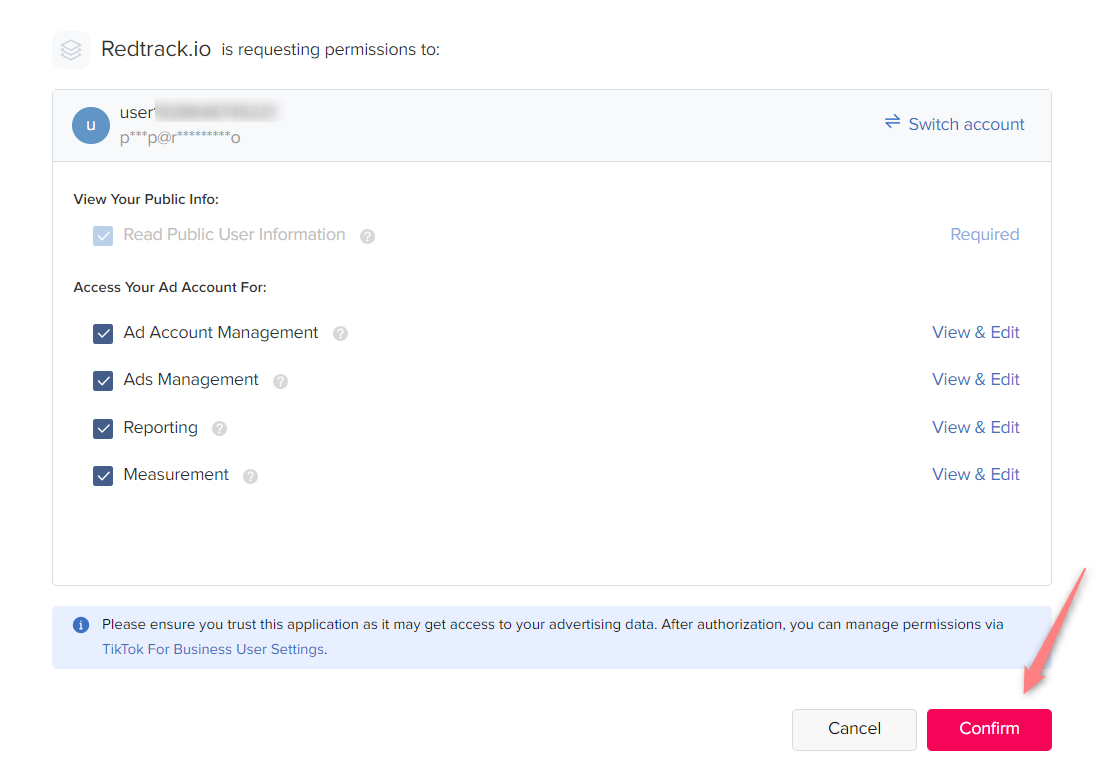 3.3 once accepted, you are automatically redirected back to your account to add your TikTok integration data. Act accordingly:
ct accordingly:
if you already have a ready-to-use pixel for your website, proceed with step 3.3.6 below
if you don't have the pixel you'll need to create it first, proceed with step 3.3.1 below
To add TikTok pixel and Generate Access Token go to your TikTok account and act as follows:
3.3.1 go to Assets-> Events: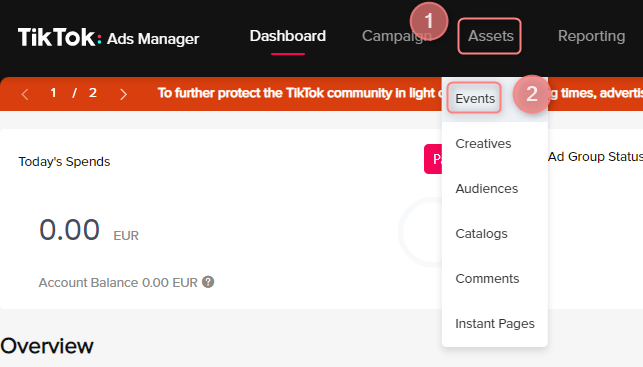 3.3.2 choose the option Web Events and press the button Manage:

3.3.3 press the button Set Up Web Events at the top left corner: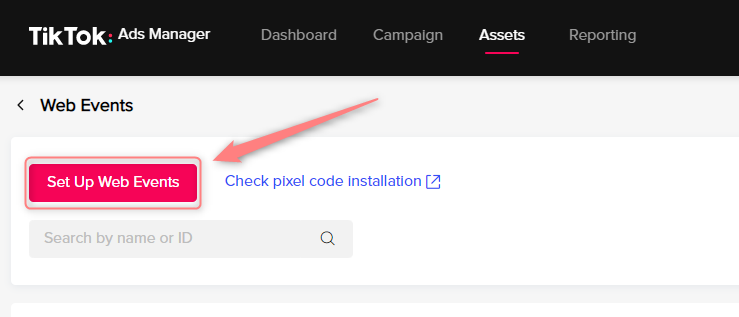 3.3.4 in the pop-up windows give your pixel a name->choose Events API->Manually Set Up Events API: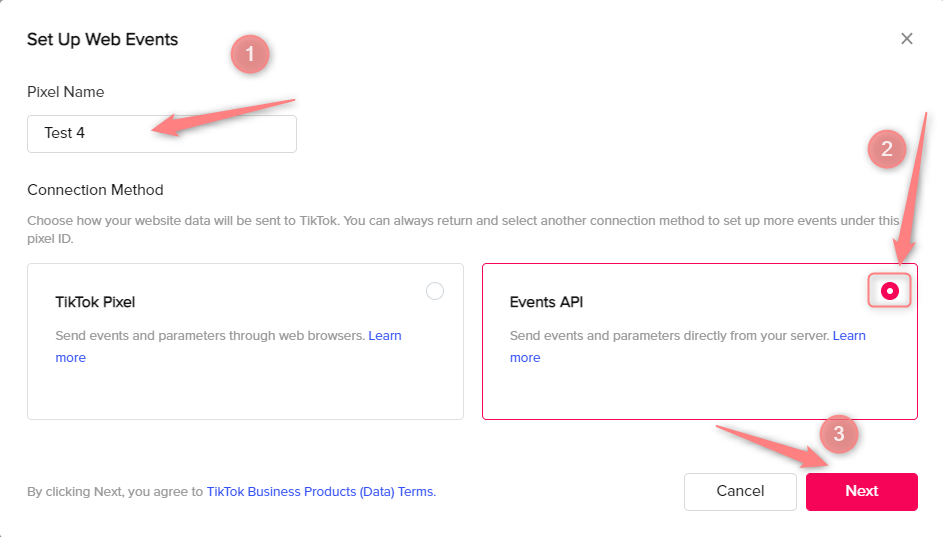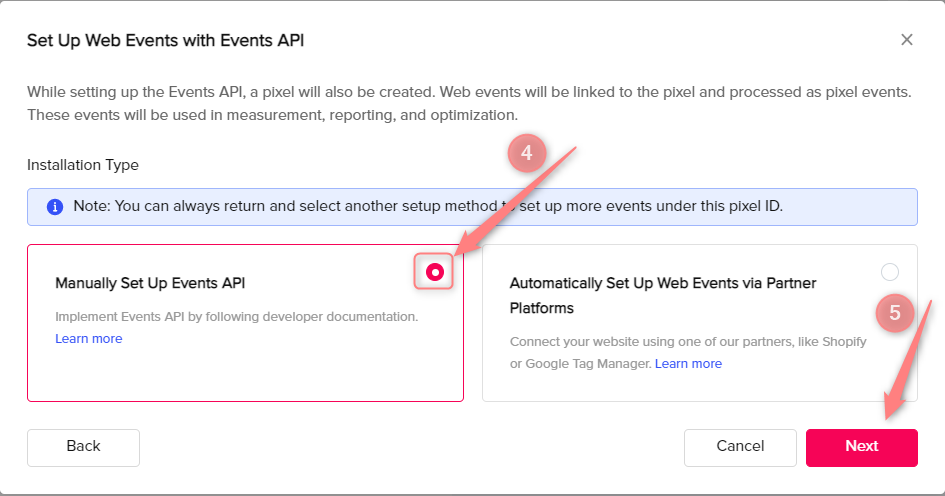 3.3.5 in the pop-up window press Go to settings: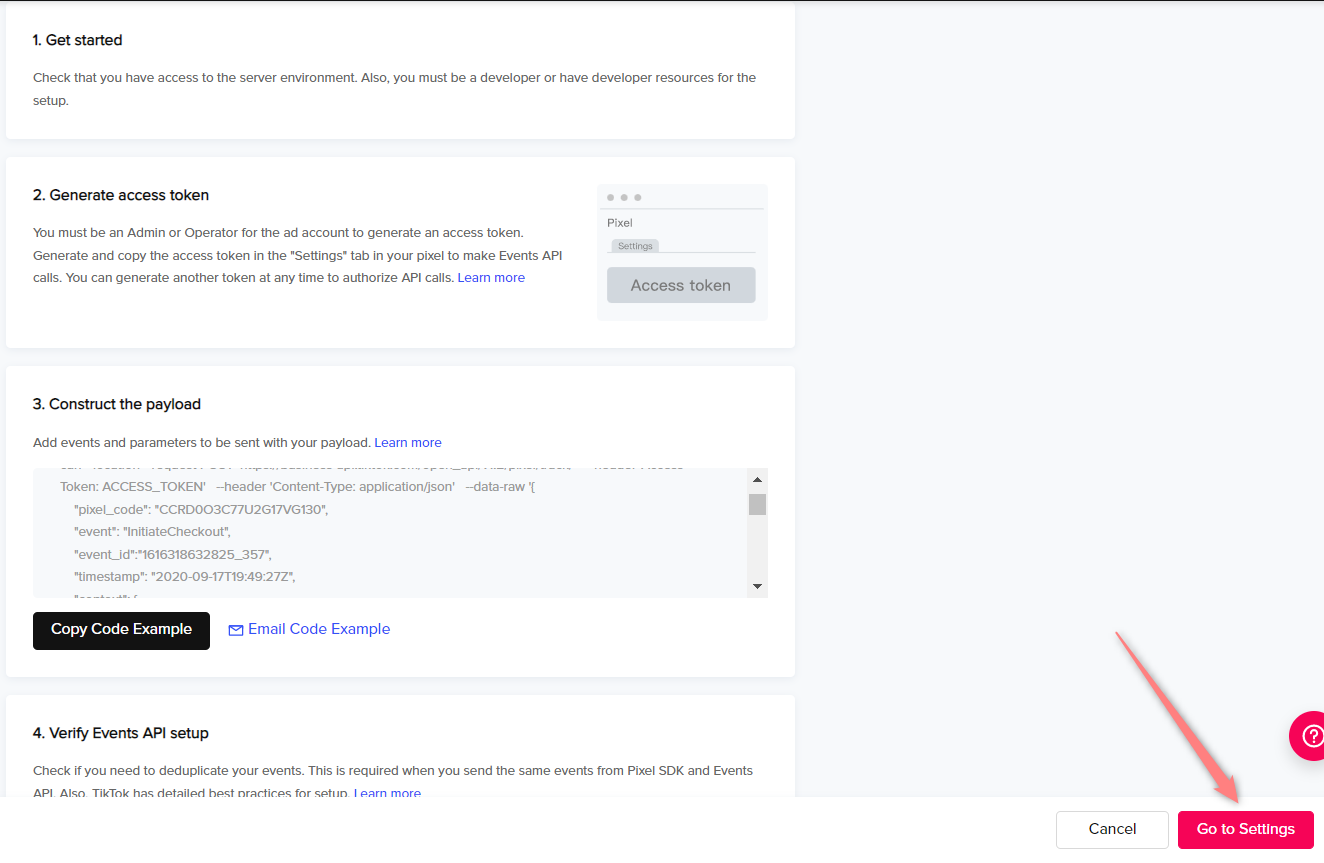 3.3.6 that's it, your pixel has been created. Copy the Pixel ID and place it to the added TikTok template in RedTrack: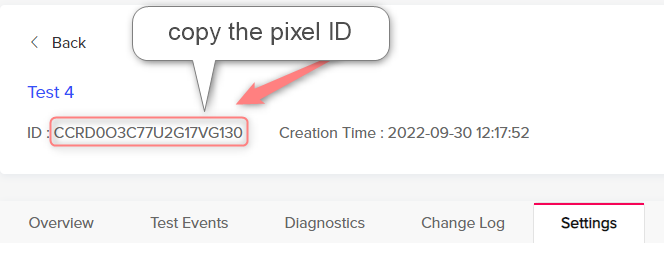 3.3.7 stay in the Settings tab in TikTok,  scroll down, and press the Generate Access Token button. Copy the created token and paste it to the added TikTok template in RedTrack: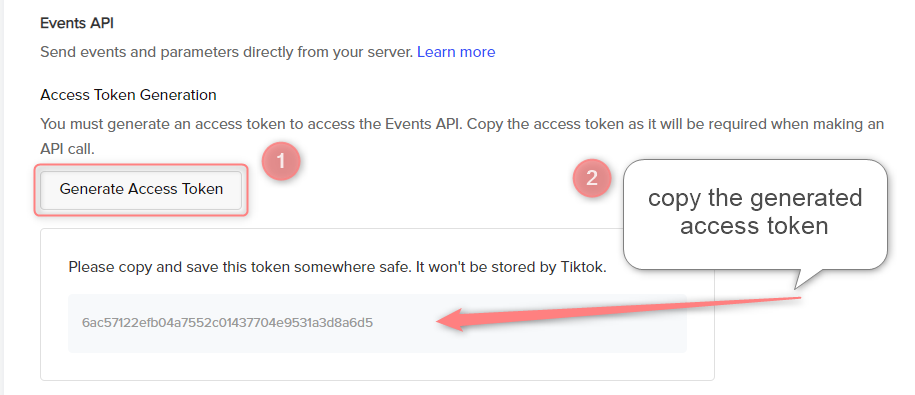 Hint!

To learn more about TikTok Pixel go to the related TikTok guide.
3.4 Add conversion types to RT by going to Tools->Conversion tracking->Conversion type. Click here for more info on conversions types in RT.
3.5 Set the mapping for your conversion events for RedTrack to send your conversion information to TikTok. Once it's done, press Save changes: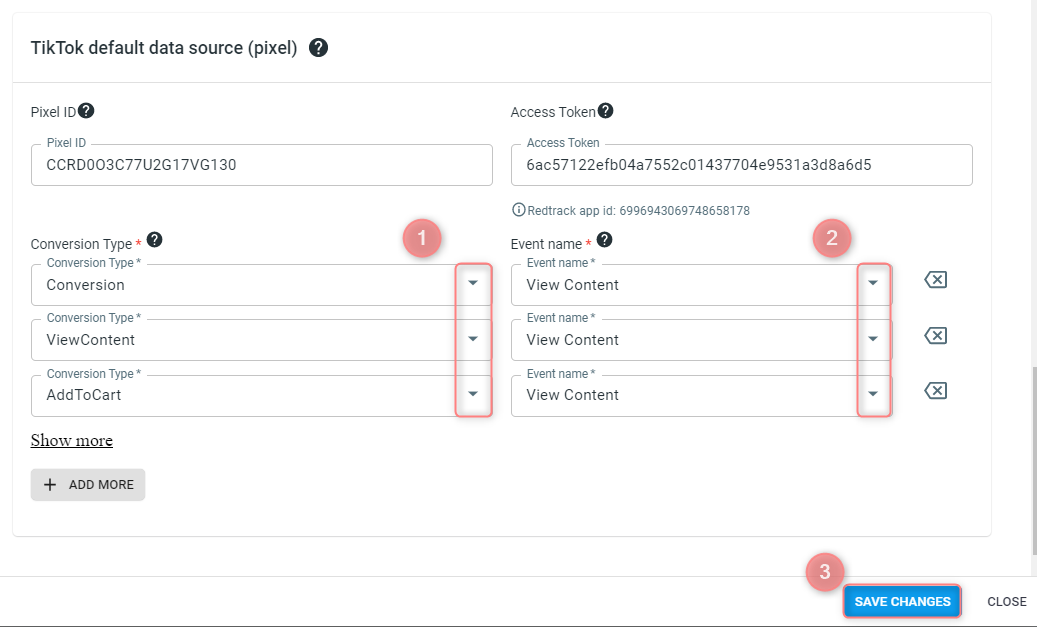 Important!

RedTrack conversion types on the left are added separately. You added them within step 2.3. Those conversion types are used for all your channels of traffic. Mapping for TikTok is set here on the right. Choose the events from the list to match your RedTrack custom conversion events. We send the following information to TikTok: conversion type, currency, sum, IP, UA, conversion date.
⬇️ 4. Create a Campaign in RedTrack with TikTok as your Traffic channel
4.1 Use this guide to create the Campaign
4.2 Once the Campaign is created, all the tracking links and the parameters for the script will be generated automatically and include all the supported macros. Copy the tracking parameters under the Universal script tab as you will need them when creating your campaign in TikTok:

Important!

When creating a campaign with TikTok in RedTrack make sure to:
⬇️ 5. Launch a Campaign in TikTok
5.1 TikTok Ads Manager structures ads into three parts: Campaigns, Ad groups, and Ads. Creating a campaign is the first step where you will need to set up your advertising objective, campaign name, and budget. Please use the dedicated TikTok guide on creating Campaigns and handling settings within ad groups, and ads.
5.2 to finish integrating TikTok with RedTrack when finishing creating the TikTok campaign, insert your landing page URL+tracking parameters from your RedTrack Campaign (step 3.2):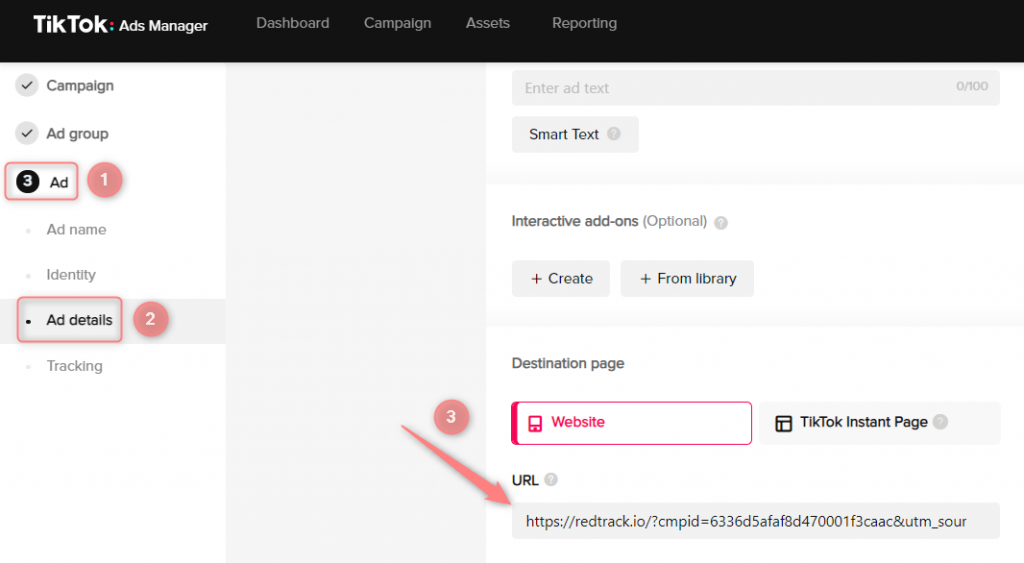 ⬇️ 6. Set the automation and enjoy!
Check out the following articles for the automation features:
You're all set, good luck!