Default campaign for unattributed (aka organic) traffic
What is unattributed traffic and why do I need to create an unattributed traffic campaign?
Organic/unattributed traffic is those visitors that land on your website from unpaid sources, aka essentially free traffic. To spot this traffic in RedTrack you need to add a Traffic source template called "Other" and create a default Campaign with this Traffic source. Campaigns with paid traffic contain tracking parameters (for example cmpid=62593afd6ef9dd0001221f51), meaning we already know to which traffic these clicks are attributed. Thus, for the unpaid traffic (unattributed/organic traffic) to be attributed somehow, you need to create a default campaign, which will collect info about all the clicks coming without the tracking parameters.

Mind that manually Campaigns for the unattributed traffic are created only if you are an Affiliate. Unattributed Campaigns for Advertisers are created automatically once they add their Website.
How do I create unattributed traffic (default) campaign?
To add the default traffic channel campaign act as follows:
1. Since you do not know what source your visitors may come from, your own website serves as the traffic source. Open the Traffic channels tab-> add template Other-> in the name field add your own website's name or go creative, but remember to distinguish this Traffic source somehow (put Other, for example) to tell it from the regularly added campaigns: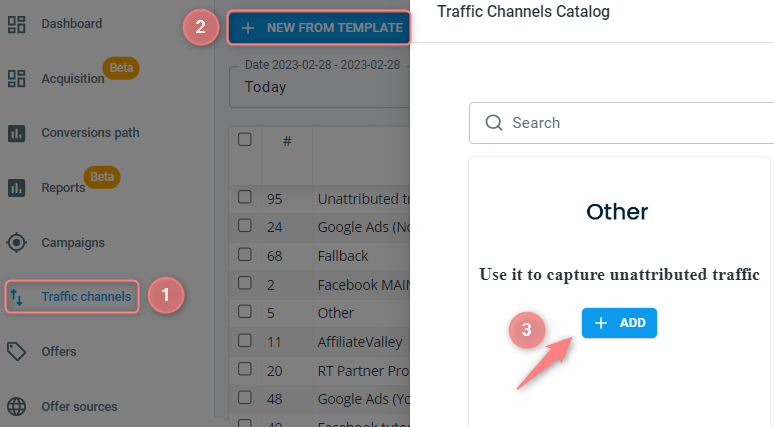 2. Add the offers you're promoting.
3. Add your website as a landing page.
4. Create a new campaign as a regular campaign and save it.
5. Copy the universal script associated with this campaign.
6. Paste the universal script on your website.
Here's a more detailed guide: Quick start