Protecting your postbacks
What is postback protection?

RedTrack developed 2 special features – postback protection and whitelist IPs that allow protecting your link from fraudulent conversions in your CPA campaigns.
Postback protection
1. Add your offer source (either from the template or a custom one) and save the changes.
2. Once you have added it, the postback protection toggle becomes active: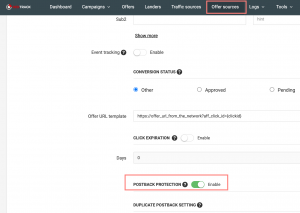 3. After you enable it, you will see the unique ptoken value is added to the postback URL template:

4. Save the changes. In order to work properly, the protected postback URL with the unique ptoken should be obligatorily inserted to the offer source (affiliate network, advertiser) postback settings.
If this feature is enabled, each conversion will be checked against the uniqueness of "ptoken", in case it does not match, a conversion will be ignored by RedTrack.
Whitelist IP
If it is required to record only certain conversions that came from a certain IP or IP range, then Whitelisted IPs can be enabled. Conversions with different IPs (IP ranges) will be ignored by RedTrack.