Service Level Agreement
What is an SLA?

A service level agreement (SLA) is a documented agreement between a service provider and a client that identifies both the services required and the expected level of service.
Agreement Overview
Effective Date: 01/03/2021
Last Review: 10/10/2021
Next Scheduled Review: 03/01/2022
This Service-Level Agreement, effective as of March 1, 2021,  is made by and between RedTrack.io and its clients.
RedTrack cares about all clients and tries to do all the best to keep the excellent service level. This document aims to make the interaction with clients maximum effective to deliver service always on time.
Here you will find the terms and conditions for the system availability, all types of additional services we provide, and the types of interactions.
The objectives of this Agreement are to:
Provide a thorough understanding of service ownership and the roles and responsibilities.

 

This Agreement represents a description of the services provided by RedTrack.io.

 

Match understandings of expected service provision with actual service support & delivery.
Definitions
Client – any RedTrack.io paid client

Service Specialist – RedTrack.io Support, Onboarding or Development specialist

Onboarding – the process of helping a client to start using our product and receive first results to scale his business

Feature implementation – the process of implementing a feature not currently available in the app

Reasonable availability – evaluate the risks and being available if anything urgent happens, or if immediate assistance is required; provide all the necessary information

Service Packages – a combination of features included into a subscription

Expected responce –  a response/resolution to the client quiry or the ETA provision if  the issue requires more investigation

Downtime – is the overall number of minutes RedTrack.io was unavailable during a quarter (i.e., February 1 through April 30 and every three-month period).
Service Scope
The following Services are covered by this Agreement:
 Product

 Client Support

 Client Onboarding
Service Agreement
Product Downtime
RedTrack.io calculates unavailability using server monitoring software to measure the server-side errors, ping test results, web server tests, and website tests.
Downtime excludes the cases:
Slowness or other performance issues with individual features (custom scripts used on the page, "heavy" pages, additional redirects, apps, and plugins used)
Issues that are related to external apps or third parties (slow internet connection, "heavy" applications open, various browser extensions)
Any features identified beta or similar
Scheduled Downtime for releases
Product Uptime Commitment
Uptime is the percentage of total possible minutes RedTrack.io was available during a quarter.
Our commitment is to maintain at least 99.9% Uptime.
Product Scheduled Downtime
Sometimes we need to perform short maintenance for a release to keep RedTrack.io working smoothly and have all the useful features you may need.
The downtime period is up to 5 seconds in that case and it does not affect tracking.
Service Commitment
Service coverage follows the schedule specified below:
On-demand pro support, onboarding, personal manager, and remote assistance: 9:00 A.M. to 7:00 P.M, Monday to Friday GMT+3
Livechat Support: 9:00 AM to 9:00 PM, Monday to Friday GMT+3
Email Support: 24-Hours
Urgency levels and priority for Support Service
Live chat support
The live chat service was created for quick question resolutions: something fast or extremely urgent (for us to react as fast as possible). It's 1-line support.
We do not cover funnels setup, onboardings, complex integrations, or script implementation in a live chat as it requires additional time and sometimes the involvement of several specialists. These kinds of questions are to be addressed to the 2-line support.
Interaction is established by using an in-app chat window available in your account's right corner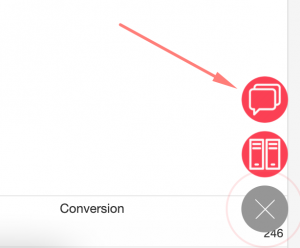 The expected response for a live-chat is:

10 minutes

15 minutes within the high load periods
Email support
This service covers all types of questions and is available any time of the day any timezone. That means you can write anytime, we will receive your request and put it in a queue.
Email support covers the 2-line support and also all requests from the clients who do not have a live chat included in the subscription.
The processing of email inquiries is as follows: we prioritize the request (impact+subscription+urgency defined by a client) and address it to an appropriate department or specialist. The higher the priority is, the faster the processing is.
Interaction is established by writing to support@redtrack.io
Expected response  – either a response/resolution of your case or the ETA for the resolution

Impact
Types of requests
Expected response

1. Critical
Service down
Immediate
2. High
Risk of service downtime
Within 1 hour
3. Medium
End-user impact
Within 5 hours
4. Low
Potential for performance impact
Within 8 hours
5. Informational
The issue addressed and potentially impactful
in the future
Within 1 business day
6. Feature
A request for the missing feature
Within 5 business days
Urgency levels and priority for other services
Onboarding assistance
It's a standard onboarding for our clients.
We do understand RedTrack is not plug-and-play software and help you to start so you can see the value of the product. Onboarding varies depending on your subscription package and the particular use case.
Terms of onboarding are defined individually after the setup evaluation with our specialist.
On-demand Service
An extra cost service is provided upon request after the onboarding is finished or not included in the subscription. Here is what can be covered by this type of service.
The pricing and terms are stated only after the request evaluation.
Personal Telegram chat
An additional pro service for our premium clients – a top priority personal live chat with any of our specialists in a telegram (without switching on to another channel and describing the issue or request from the very beginning). No one else will have access to it, only you. Everything you need to ask for help or advice is a phone in your pocket.
Personal Manager
Your personal manager will guide you through the onboarding process, be available to answer any questions after, provide advice on the best platform usage, escalate any of your issues with a higher priority.
RedTrack.io responsibilities
Our responsibilities and requirements include:
Meeting response and resolution times associated with service-related requests.
Reasonable availability of a Service Specialist when solving a request.
Act as a primary support provider of the services
Inform a client regarding scheduled and unscheduled service outages due to maintenance, troubleshooting, disruptions
Inform a client regarding new feature releases.
Client Responsibilities
Client responsibilities include:
Payment for all support costs at the agreed interval.
Reasonable client representative(s) availability when resolving a service-related request (by mail, in a chat, for a call).
Provide all necessary information and assistance related to the issue that allows RedTrack.io to meet the performance standards and keep the support level high.
A client should inform RedTrack.io regarding changing business requirements that may necessitate a review, modification, or amendment of the SLA.
Exceptions and Limitations
This SLA is subject to the following exceptions and special conditions:
RedTrack.io provides the service within the agreed period depending on the service level included/obtained.
RedTrack.io will act as a primary support provider of the services except when third-party vendors are employed who shall assume appropriate service support responsibilities accordingly.
For the cases when a third-party tool support team involvement is required, SLA is extended accordingly.
RedTrack.io may not be liable to the payment reimbursement for service impact to the cases where the service setup was done without RedTrack.io Specialist involvement.
Response to requests can be delayed out of business hours, during the weekends and holiday season.
Response to high and critical level requests can be delayed for up to 24 hours out of business hours, during the weekends and holiday season.
Requests for the client's special arrangements may be re-evaluated and fulfilled as per the pricing structure specified in Service Packages.