Webhooks
What is a webhook?

We know how important it is to be notified about the campaign bad performance in the most convenient way. That is why we have implemented a webhook functionality. Webhook (a web callback or HTTP push API) is a way for an application to provide other applications with real-time data.
1. Set an auto rule for your campaign. Choose the type of optimisation (if available) and the conditions: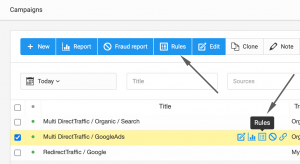 You can find more information on the rules setup here: Auto rules
2. In the "Perform action" section choose the action to be taken (e.g.: pause campaign), set the notification type "Webhook", choose the method (GET or POST), insert your webhook URL.
You can also add additional parameters to your webhook URL to get more information with the URL called (e.g.: rule id, campaign name, target)
3. "Save and activate" your rule and you are all set.